Saturday, October 18, 2008
I have been reading lately about the youtube sensation on Charice and so I am here, after listening and watching her songs and performance. For thos who does not have any idea wo this Charice Pempengco is, you may google this name and you will get a lot of results for sure... or
see her own website here
.. But why am I blogging about her here? For a very simple reason: she is a Filipina.
And who is Manny Pacquiao? I can say that this person is the "knuckles" of the Philippines. And naturally, he is a Filipino.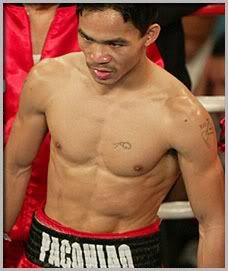 Both Pempengco and Pacquiao are successful in their respective chose fields, in singing and boxing, respectively. They have awaken the awareness of not Filipinos alone but the whole world with their talents and success. And naturally, all the Filipinos are clapping their hands (that includes me) for them. They are praised, adored, prided over and became the talk of the town whenever there is an evernt where they are involved. They are celebrities, popular and symbolic.

The whole Filipino community has been thrilled with the performance of the two persons. All I wish is that they become good models as they are so known to each and every Pinoy and Pinay worldwide. I just hope they set as good standards and worthy models for everyone... I hope their fame stay solely for that purpose.. I hope they would teach to all that only a very few percentage can really achieve extraordinary success and luck as what they both have. I just hope they teach the value of individual hard work for one's success and relying to others all the time is NEVER good.. I just hope.. i have lots of hopes actually.

As for the rest of my fellowmen, we must be proud of them indeed. We shout to the world that they both are our countrymen.. But we should also accept some negatives on us being Filipinos and just don't be a Pikon when our bad side is touced. Let us accept our weaknesses and only in this way we can improve and remove those weaknesses.

To the two, Charice Pempengco and Manny Pacquiao, congratulations.

Posted by

Filipina Ini
at 5:41 PM
12 comments